Kappa Launches the New Slogan "We Are One"
---
[11 November 2009, Hong Kong] - The leading international sportswear brand enterprise in the PRC, China Dongxiang (Group) Co., Ltd. ("China Dongxiang" or "the Company"; stock code: 3818, together with its subsidiaries the "Group") launches a new slogan "We Are One" for Kappa brand targeted its Chinese market on 9 November.
After in-depth research and market intelligence feedback, the Company launches "We Are One" as the new slogan for Kappa brand in China Market, which connects sportswear with fashionable, sexy and graceful elements. To witness such an important milestone, the Company held a theme party at Jingyuan Art Centre on 9 November and invited famous celebrities such as Khalil Fong (方大同), Shin (信), Jeffrey Kung (孔令奇) as well as athlete celebrities including Gaomin (高敏), Song Xiaobo (宋曉波), Ma Yanhong (馬燕紅), Xin Gaowei (邢傲偉) to participate in the party.
To promote a more in-depth understanding of the new slogan among its customers, the Company has also invited 10 famous artists to create 10 masterpieces base on the theme of "We Are One", all of which were displayed in Wang Fujing, Beijing. Such a move has gained overwhelming responses from customers.
"We have been looking forward to introduce Kappa's new slogan to our consumers," commented Mr. Chen Yihong, Chairman of China Dongxiang, "I would like to thank our business partners, staff, distributors and other parties who have contributed to the introduction of this new slogan. "We Are One" represents our unique positioning in the China market. Subsequent to our successful launch of Kappa skiwear in October 2009, China Dongxiang once again demonstrates its strengths in meeting customers' needs with fashionable and innovative designs."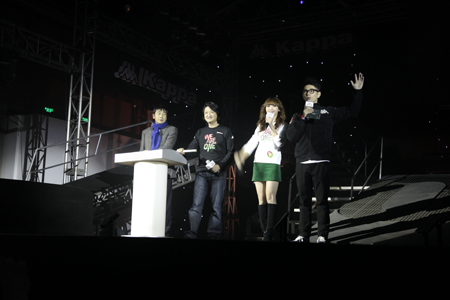 Chairman of China Dongxiang Mr. Chen Yihong and CEO Mr. Qin Dazhong
announced new slogan for Kappa brand - "We Are One"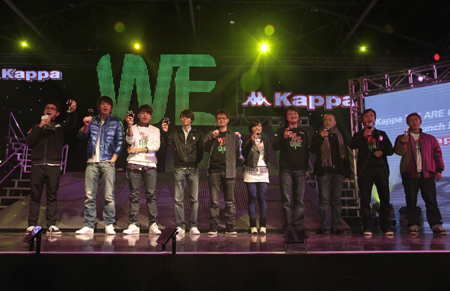 Management of China Dongxiang, distributors and famous artists presented on the stage
congratulating the successful launch of the new slogan "We Are One"
-End-
About China Dongxiang (Group) Co., Ltd.
China Dongxiang (Group) Co., Ltd. is a leading international sportswear brand enterprise based in China and was successfully listed on the Stock Exchange of Hong Kong Limited on 10 Oct, 2007. The Group is primarily engaged in the design, development, marketing and wholesale of branded sportswear in China. Currently, China Dongxiang owns all rights to the internationally recognized Kappa Brand in China, Macau and Japan. Its products convey an active, fashionable and youthful image and are warmly welcomed by China's fast growing and high potential consumers. The Group finished its acquisition of a Japan sportswear enterprise Phenix on 30 April 2008. The international brand "Phenix" has the greatest market share in the skiing and outdoor sportswear market in Japan.
---