China Dongxiang 2Q2010 Sales Fair Visit Successfully Held in Beijing
---
[12 November 2009, Hong Kong] - The leading international sportswear brand enterprise in the PRC, China Dongxiang (Group) Co., Ltd. ("China Dongxiang" or "the Company"; stock code: 3818, together with its subsidiaries the "Group") held the 2Q2010 investor sales fair visit on 9 November 2009 in Beijing, PRC.
The 2Q2010 sales fair was held in Jiuhua Resort & Convention Center located at Xiaotangshan, Beijing. Over 40 investors including sell-side analysts participated in this sales fair visit. All the participants have gained comprehensive information on the Company's new products and operational updates after the showroom visit and meetings with management and distributors. Some of the participants also took part in the theme party announcing the launch of Kappa new slogan "We Are One". Responses from investors regarding the sales fair and the launch of the new slogan "We Are One" for Kappa brand are positive and encouraging.
"We are very pleased to have such an opportunity to meet with analysts during 2Q2010 sales fair," commented Mr. Qin Dazhong, CEO of China Dongxiang, "This is a great opportunity to communicate with analysts and let them better understand the Company and Kappa products. As demonstrated in the sales fair, China Dongxiang has unrivalled competitiveness over innovative product design and quality. With the launch of our new slogan "We Are One", we strive to differentiate ourselves as a unique sportswear brand which combines elements of fashion and sports which will accelerate our growth momentum in the years to come."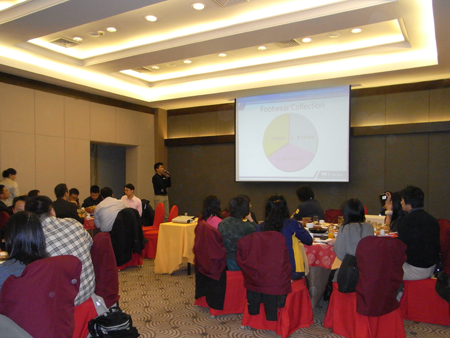 Management conducts a presentation on new products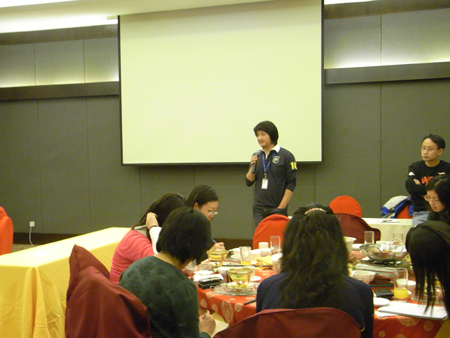 China Dongxiang management answers questions from investors / analysts
-End-
About China Dongxiang (Group) Co., Ltd.
China Dongxiang (Group) Co., Ltd. is a leading international sportswear brand enterprise based in China and was successfully listed on the Stock Exchange of Hong Kong Limited on 10 Oct, 2007. The Group is primarily engaged in the design, development, marketing and wholesale of branded sportswear in China. Currently, China Dongxiang owns all rights to the internationally recognized Kappa Brand in China, Macau and Japan. Its products convey an active, fashionable and youthful image and are warmly welcomed by China's fast growing and high potential consumers. The Group finished its acquisition of a Japan sportswear enterprise Phenix on 30 April 2008. The international brand "Phenix" has the greatest market share in the skiing and outdoor sportswear market in Japan.
---
Connect with Us
Scan the QR Code Below to Subscribe the Group's Wechat Official Account

© Copyright 2022 China Dongxiang (Group) Co., Ltd.. All rights reserved.