China Dongxiang Opens the First RDK Store in China
---
[4 March, 2010 - Hong Kong] The leading international sportswear brand enterprise in the PRC, China Dongxiang (Group) Co., Ltd. ("China Dongxiang" or "the Company"; stock code: 3818, together with its subsidiaries the "Group") announced that the first Robe di Kappa (RDK) store in China officially opened at The Place, Beijing on 24 February 2010. A large-scale marketing event will be held in March to celebrate this grand opening.
RDK is a high-end casual sportswear brand originated in Italy. RDK was characterised by unobtrusive and innovative design with inner beauty in its brand concept and positioning. In preparation for the launch of the brand, the Company spent two years to strategize the brand positioning, product design and sales distribution of RDK. The Product Showcase and Sales Fair of RDK brand which was held in third quarter last year attracted nearly 60 distributors and received overwhelming responses.
Mr. Qin Dazhong, CEO of China Dongxiang said, "The grand opening of the first RDK store in China demonstrates our efforts and determination in building a strong portfolio of sportswear brands. Riding on the fashionable and innovative products of RDK, we believe that it will secure astounding responses and well received by customers."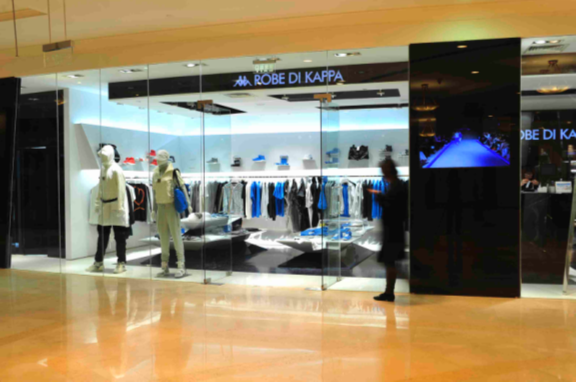 The first RDK store in China, Beijing
-End-
About China Dongxiang (Group) Co., Ltd.
China Dongxiang (Group) Co., Ltd. is a leading international sportswear brand enterprise based in China and was successfully listed on the Stock Exchange of Hong Kong Limited on 10 Oct, 2007. The Group is primarily engaged in the design, development, marketing and wholesale of branded sportswear in China. Currently, China Dongxiang owns all rights to the internationally recognized Kappa Brand in China, Macau and Japan. Its products convey an active, fashionable and youthful image and are warmly welcomed by China's fast growing and high potential consumers. The Group finished its acquisition of a Japan sportswear enterprise Phenix on 30 April 2008. The international brand "Phenix" has the greatest market share in the skiing and outdoor sportswear market in Japan.
---
Connect with Us
Scan the QR Code Below to Subscribe the Group's Wechat Official Account

© Copyright 2022 China Dongxiang (Group) Co., Ltd.. All rights reserved.