China Dongxiang Posts Solid and Sustainable Growth in 1H2010 Net Profit Rose 8.9% to 786.0 million Gross Profit Margin Increased to an Impressive 62.6% * * * Focused on Brand Building and Multi-brand Strategy
---
Financial Highlights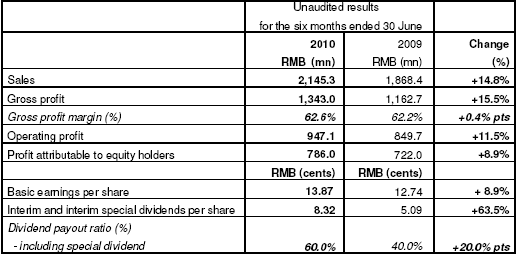 [25 August 2010, Hong Kong] – China's leading international sportswear brand enterprise China Dongxiang (Group) Co., Ltd. ("China Dongxiang" or "the Group"; stock code: 3818) announced its interim results for the six months ended 30 June 2010 (the "period under review"). Sales of the Group rose 14.8% year-on-year to RMB2,145.3 million. Gross profit margin further expanded by 0.4 percentage points to 62.6% as a result of effective cost control, stable product selling prices and termination of low margin international sourcing business. Profit attributable to shareholders increased 8.9% to RMB786.0 million. Basic earnings per share grew 8.9% to RMB13.87 cents. Net cash inflow from operating activities during the period under review increased by 22.3% year-on-year to RMB1,006.0 million.
In view of solid business growth and sustainable financial performance, the Board of Directors of the Company declared the payment of 30.0% and 30.0% of the profit attributable to shareholders as interim dividend and special dividend, which amounted to RMB8.32 cents per share in total. The amount of interim dividend payment per share, including special dividend, rose 63.5% compared to the same period last year.
Thanks to the enhanced supply chain management, the inventory turnover days and trade receivables turnover days of the China segment both remained at a highly satisfactory level of 33 days and 26 days respectively.
Mr. Chen Yihong, Chairman of the Group said, "The global economy entered a phase of adjustment in 2010. During the volatile market conditions, our focus was squarely placed on strengthening our core competence by enhancing management capabilities and stepping up of brand building efforts, which we believe will put us in a perfect position to capture future growth opportunities as they arise."
China Segment
During the period under review, sales generated from the Chinese segment increased 16.6% year-on-year to RMB1,956.6 million, accounting for 91.2% of the total sales of the Group. Apparel sales in the PRC reached RMB1,467.1 million, representing a year-on-year increase of 19.4%.
As of 30 June 2010, the Group had 38 distributors who directly or indirectly operated 3,820 retail outlets in the China segment. This represented a net increase of 309 retail outlets compared with the 3,511 retail outlets as of 31 December 2009. In addition to retail network expansion, the Group also reported growth in the number of both online distributors and online stores in the period under review. Taobao.com, the leading e-commerce platform in the PRC, remained the Company's leading strategic partner.
In an effort to offer an even wider range of fashionable sportswear products, the Group rolled out a new product line Kappa P-A.C collection co-developed with Mr. Michael Michalsky. It was launched in July 2010 and has since then received highly positive response from consumers.
Product research and development has always been one of the key priorities of China Dongxiang. In June 2010, the Group's first research and development centre located in Taicang, Jiangsu Province, was officially completed and commenced operation.
The Group continued to implement various innovative and effective promotional activities for the Kappa brand during the period under review. Apart from consolidating its leading position in entertainment marketing, the Group also demonstrated the core value of the Kappa brand through a host of marketing campaigns and various sporting event sponsorships including soccer, tennis, golf and etc.
The first Kappa brand television commercial (TVC), which had its premiere on CCTV National Sports Channel right before the opening of the World Cup 2010, received highly positive response from mainland consumers. Marketing activities during the first half of 2010 were mainly associated with the 2010 FIFA World Cup South Africa. Under the theme of ''Football Frenzy'', the Group promoted the fusion of "sport and fashion" to consumers, through numerous Internet and graphic media and various sponsorships.
Another important brand under the Kappa umbrella, Robe Di Kappa (RDK), also had its successful launch in the first half of 2010. The pilot shops of Robe Di Kappa, which is located in Beijing and other cities, have achieved satisfactory sales performance.
Japan Segment
The Group also achieved its major development goals in the Japan segment. Sales from the Japan market amounted to RMB188.7 million. The operating gross profit margin maintained at 45.2%. These achievements were accomplished in spite of the overall slowdown of economic growth in Japan.
Outlook
Looking ahead, the Group will continue to accelerate brand building, implement multi-brand business strategies and enhance supply chain management, research and development, terminal retail as well as internal management, aiming to further bolster its competitiveness.
In the second half of 2010, a new Kappa TVC will be launched in addition to the Group's continual sponsorship for national sports events, such as China Open Tennis Championships and WGC-HSBC Golf Champions. Besides, the Group has entered into a cooperation arrangement with BasicNet, another Kappa's brand owner, in respect of sponsorship for global sports events and clubs, aiming to consolidate and even enhance the high end sports brand image of Kappa.
On the other hand, the Group will continue to develop new business, step up multi-brand business operation and enhance its research and development capabilities by worldwide cooperation. The Group plans to further solidify the leading position of the Kappa brand in the fashionable sportswear industry by using additional resources of international design, such as UAL, Phenix in Japan as well as BasicNet in Italy. The Group's research and development centre located in Taicang, Jiangsu Province, will continue to earn the research achievements from Phenix, followed by the enhancement of products' competiveness.
Mr. Chen continued, "2010 marks the beginning of our new five-year strategic plan. From an internal management perspective, we have successfully renovated the branding, marketing and supply chain systems of the Group and fine-tuned our multi-brand operational strategies. Externally, we have also deepened our cooperation with leading corporations in the global fashionable sportswear industry. As a result, we are confident that the Group will accomplish its strategic goals by offering customers branded fashionable sportswear products they desire. These initiatives will bring fruitful returns to the communities in which we operate, and our staff as well as shareholders."
-End-
About China Dongxiang (Group) Co., Ltd.
China Dongxiang (Group) Co., Ltd. is a leading international sportswear brand enterprise based in China and was successfully listed on the Stock Exchange of Hong Kong Limited on 10 Oct 2007. The Group is primarily engaged in the design, development, marketing and wholesale of branded sportswear in China. Currently, China Dongxiang owns all rights to the internationally recognized Kappa Brand in China, Macau and Japan and Robe Di Kappa Brand in China. Its products convey an active, fashionable and youthful image and are warmly welcomed by China's fast growing and high potential consumers. The Group completed the acquisition of a Japan sportswear enterprise Phenix in April 2008. Phenix is the most popular ski brand in Japan with the largest market share, acquired strong recognition in the international market.
---