China Dongxiang (Group) Co. Ltd. * * * Kappa Curves New Product Launch Press Conference
---
(7 July 2011, Hong Kong) The leading international sportswear brand enterprise in the PRC, China Dongxiang (Group) Co., Ltd. ("China Dongxiang" or "the Group"; stock code: 3818) successfully organized the Kappa Curves New Product Launch Press Conference with the theme "Becoming More Beautiful Step-by-step Everyday" in Beijing on 2 July and engaged celebrity, Miss Karen Mok, as spokesperson of the product series. At the press conference, the Kappa concept of body shaping in a stylish way of living was perfectly shown through the curvy stage setup, the images of Curves highlighted in crossed beams, the stunning entrance of Miss Karen Mok and the interaction among participants through online recruitment are all creating a new fashion trend.
Kappa Curves, the newly-launched sports shoes series this summer, denotes contours of the human body. The unique design of the dual curvy sole can accentuate women¡¦s beauty by bringing out their energy and inner power. Kappa Curves activates leg muscles and helps burn more energy from each step. The cushion effect through its elastic sole simulates the feeling of walking on the beach. Kappa Curves presents to city girls a new concept of "shaping your body with no extra time and effort", which means one can carry out bodybuilding while working, shopping or strolling.
At the press conference, Miss Karen Mok said, "I love the stylish and curvy design of Curves and the unique feeling it offers when walking. I recommend Curves to every woman who pursues health and fashion. Wish they can walk light and look fit out of every step."
"Curves Flash Action" was simultaneously held in Beijing, Shanghai, and Shenzhen on the day of press conference. A large group of female participants through online recruitment wore pink Curves and shorts with pink umbrellas while trotting on the street, creating a magnificent scene. The promotion will be sequentially launched across the country in Shenyang, Changsha, Nanjing, Chongqing, Hangzhou, Chengdu, Wuhan, Taiyuan and Harbin.
Ms. Sandrine Zerbib, Chief Executive Officer of China Dongxiang, said, "We are glad to witness the launch of Kappa Curves and successfully invited popular artist, Miss Karen Mok, as spokesperson. The Kappa Curves series kick-starts our initiative to systematically feed technology and design into our footwear. This is also the initial step towards our implementation of 360 Degree Integrated Marketing Strategy. Going forward, we will switch our marketing strategy from above-the-line to go-to-market, aiming to instill more impact to our brands. We will also continue to develop various new product lines and introduce more new products this year so as to offer a fresh retail experience to consumers."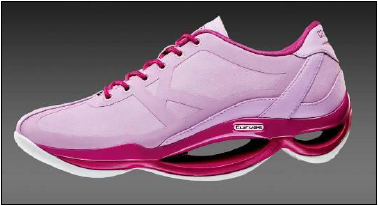 Key Product of Kappa Curves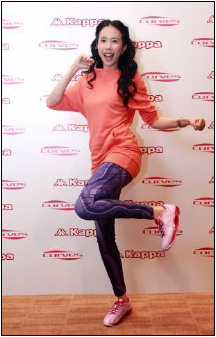 Karen Mok as Spokesperson of Kappa Curves
Karen Mok presented Kappa Curves with her
autograph to consumers

Snapshot of the Press Conference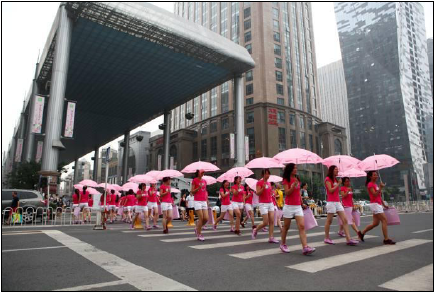 "Curves Flash Action"
- End -
About China Dongxiang (Group) Co. Ltd.
China Dongxiang (Group) Co., Ltd. (HKEx: 3818) is a leading international sportswear brand enterprise in China and was successfully listed on the Main Board of the Hong Kong Stock Exchange on 10 October 2007. The Group is primarily engaged in the design, development, marketing and wholesale of branded sportswear in China. Currently, China Dongxiang owns all rights to the internationally recognized Kappa and Robe Di Kappa (RDK) Brand in China, Macau and Japan. Its products convey an active, fashionable and youthful image and are warmly welcomed by China's fast growing and high potential consumers. The Group completed the acquisition of a Japan sportswear enterprise Phenix on 1 May 2008. Phenix, the most popular ski brand in Japan with the largest market share, has gained strong recognition in the international market.
---