China Dongxiang 2015 Interim Profits jumped 202% to RMB290 million Special Dividend of RMB3.67 cents will be distributed For rewarding shareholders' support
---
Results Highlights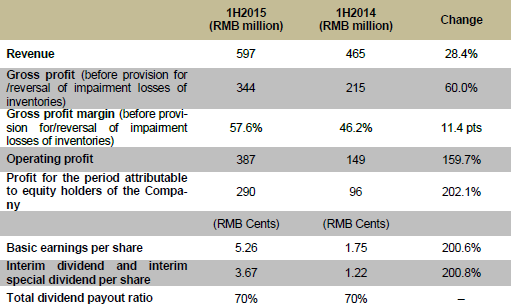 (19 August 2015, Hong Kong) The leading international sportswear brand enterprise in the PRC, China Dongxiang (Group) Co., Ltd. ("China Dongxiang" or "the Group"; HKEx stock code: 3818, together with its subsidiaries, "the Group") announced its unaudited interim results for the six months ended 30 June 2015. The Group reported a 28.4% year-on-year growth in revenue to RMB597 million, while profit attributable to equity holders increased 202.1%, year-on-year, to RMB290 million. Basic earnings per share improved 200.6%, year-on-year, to RMB5.26 cents. Interim dividend and special interim dividend is RMB1.57 cents and RMB2.10 cents respectively (in total RMB3.67 cents per share).
The Group is especially delighted with its growth in China segment for the first half of 2015, which has been beyond expectation. Revenue from Kappa brand of the China segment grew 46.4% to RMB464 million. Meanwhile, the gross profit margin of Kappa brand of the China segment rose 10.7 percentage points to 66.3% as a result of the increase in sales of new products as well as improvements in the proportion of replenishment order and sales discounts.
The growth of Kappa in China segment was mainly due to the prudent management based on the previous successes in reforms, the continuous efforts in consolidating the business models of "brand + product" and "brand + retail" and the gradual launch of strategic measures focused on brand, operation, marketing and supply chain. Meanwhile, our young management team brought fresh energy and ideas to the Group and helped to forge a solid foundation for the Group's long-term development. During the first six months of the year, the Group established a department for investment management and as-signed dedicated staff to manage its investment projects, in order to improve its opera-tions in this area. In relation to fixed-income investment, the Group optimised its product mix in a systematic manner and enhanced coordination over fund applications, with a view to generating long-term stable income for shareholders in a risk-proof approach. In rela-tion to risk investments non-fixed income, the Group exercised prudent control over the scale of such investments to limit them within a reasonable range, while actively identify-ing opportunities in star companies in the Internet, hi-tech, new energy, and financial sec-tors, aiming to share value growth while ensuring controllability of potential risks.
To reward the shareholders for their trust and support, the Board of Directors have pro-posed to distribute 30% and 40% of the net profit attributable to equity holders for the six months ended 30 June 2015 as general dividend and special dividend respectively, which equals RMB1.57 cents and RMB2.10 cents respectively.
In view of the satisfactory results achieved during the first half of 2015, Mr. Chen Yihong, Chairman, Chief Executive Officer and Executive Director of China Dongxiang, comment-ed, "Looking ahead, all employees of the Group will continue to venture forward in highfly-ing aspirations, determination and strength. With professionalism, dedication and faith, we will put the Dongxiang spirit into practice and enhance its corporate value to usher in a new era for the Group's development, with the aim of bringing more sustainable and lucra-tive returns to shareholders."
-END-
About China Dongxiang (Group) Co., Ltd.
China Dongxiang (Group) Co., Ltd. (HKEx: 3818) is a leading international sportswear brand enterprise in China which has been listed on the Main Board of the Hong Kong Stock Exchange since 10 October 2007. The Group is primarily engaged in the design, development, marketing and wholesale of branded sportswear in China. Currently, China Dongxiang owns all rights to the internationally renowned Kappa brand in China, Macau and Japan. Its products convey a vibrant, fashionable and youthful image hugely popular with China's fast-growing base of consumers with potentially high spending powers. On 1 May 2008, China Dongxiang completed the acquisition of Phenix, a Japanese sportswear enterprise. Phenix is the most popular ski brand in Japan with the largest market share, as well as a well-known brand in the international market.
For enquiries, please contact:
China Dongxiang (Group) Co., Ltd.
Christina Low
Investor Relations Department
(8610) 67836585
Email: ir@dxsport.com.cn
---