Net profit increases to RMB536 million in the first half of 2017 Dividend payout ratio hits 10-year high since listing Aggregate dividend per share is HK$ 0.27 with dividend payout ratio of 239%
---
Results Highlights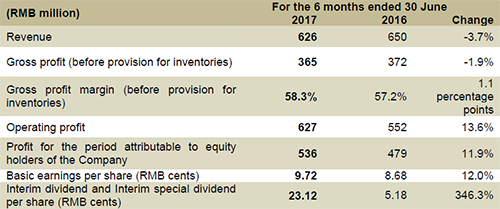 (16 August 2017, Hong Kong) The leading international sportswear brand enterprise in the PRC, China Dongxiang (Group) Co., Ltd. ("China Dongxiang" or "the Group"; HKEx stock code: 3818, together with its subsidiaries, "the Group") is pleased to announce its annual results for the six months ended 30 June 2017 ("reporting period").
2017 marks the 10th anniversary of the Group's listing. To express its gratitude to its shareholders for their long-term endorsement and support, the Board declared payment of additional special dividend of RMB959 million. In aggregate, the distribution of interim dividend and interim special dividend will be approximately HK$1.5 billion, dividend per share will be approximately HK$0.27, representing a total dividend rate of 239%, which hits 10-year high since listing.
Performance Highlight of 1H 2017
Kappa and Kappa Kids
In the first half of 2017, The Group continues to adopt a series of online and offline brand marketing strategies. Meanwhile, Kappa conducted cross-border cooperation with a number of artists from various difference domains, such as entertainment, music and arts, in order to turn pop culture into a collaboration with sportswear, embodying our brand philosophy. Kappa initiated a tripartite cooperation with A.FOUR LABS by Kazuki Kuraishi, a renowned designer and POSH ISOLATION, an independent experimental music label in Copenhagen, to launch a cross-border collection of A.FOUR LABS meets POSH ISOLATION for KAPPA. This collection enhanced brand reputation while manifesting the trendiness and glamour of Kappa.

In the first half of 2017, Kappa Kids continued with its active marketing campaign and kicked started more targeted promotional activities resulting in positive market response. Kappa Kids closely followed market trends, organized popup events with BTV Juvenile Dance Group in Beijing Chongwenmen and Beijing New Yansha Mall. Further, Kappa Kids sponsored "Super Surprise", a TV programme by Shandong Cable TV for boosting brand awareness.

As at 30 June 2017, the Group had a total of 1,639 Kappa stores (including 328 Kappa Kid's stores).


Japan business
In the first half of 2017, the Group has made decisive efforts in business adjustment in Japan. On the one hand, the Group made adjustment to most of the management team. On the other hand, the operation approach of the business team has also been gradually evolving from the simple sales of products in the past to brand management. In the meantime, the Group has established its European branch to enhance the development of Phenix business in Europe. Furthermore, the Group has made efforts to gradually introduce Phenix into China market to capitalise on opportunities arising from China's hosting of the 2022 Winter Olympics. Partnering with high-end ski centres, the Group sought to appeal to avid skiers by opening specialty stores at the ski grounds. The Group believes that through the above effective measures, the business in Japan will achieve considerable improvement in the near future.


E-commerce business
In the first half of 2017, e-commerce development of the Group remained steady. The Group cooperated with a famous video game IP, PAC-MAN, to launch the sales of Kappa x PAC-MAN series products exclusively on e-commerce platform. In addition, the Group actively participated in promotional events organised by well-known e-commerce platform to attract new customers. E-commerce sales for the six months ended 30 June 2017 surged by 25% (e-commerce sales of kids wear excluded).


Investment business
In the first half of 2017, the Group has been able to generate remarkable returns from its investment operations. For the reporting period, the Group reported net investment profit of RMB514 million, representing year-on-year growth of 17.6%.
Mr. Chen Yihong, Chairman, Chief Executive Officer and Executive Director of China Dongxiang (Group) Co., Ltd., said, "Moving forward in the face of adversity with dauntless. We will bank on our fighting spirit and cooperate with high-calibre investment partners on the back of its existing resources and strengths. The Group will, continue striving for excellence in the business, tackle with challenges and opportunities with a versatile and open minded approach, enhance the brand and corporate value, and to lay a solid foundation for the future development and for more lucrative and more lasting rewards for shareholders in the future."
-END-
About China Dongxiang (Group) Co., Ltd.
Chan Dongxiang (Group) Co., Ltd. (HKEx: 3818) is a leading international sportswear brand enterprise in China which has been listed on the Main Board of the Hong Kong Stock Exchange since 10 October 2007. The Group is primarily engaged in the design, development, marketing and wholesale of branded sportswear in China. Currently, China Dongxiang owns all rights to the internationally renowned Kappa brand in China, Macau and Japan. On 1 May 2008, China Dongxiang completed the acquisition of Phenix, a Japanese sportswear enterprise. Phenix is the most popular ski brand in Japan with the largest market share, as well as a well-known brand in the international market.
For enquiries, please contact:
China Dongxiang (Group) Co., Ltd.
Investor Relations Department
Christina Low, Erin Su
(8610) 67836585
Email: ir@dxsport.com.cn
---