10th Anniversary of Listing Maintained High Dividend Payout in 2017 Annual Dividend Payout Ratio reached 189%
---
Results Highlights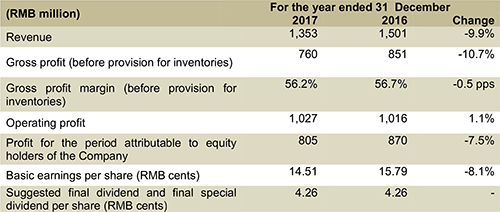 (21 March 2018, Hong Kong) The leading international sportswear brand enterprise in the PRC, China Dongxiang (Group) Co., Ltd. ("China Dongxiang" or "the Group"; HKEx stock code: 3818, together with its subsidiaries, "the Group") is pleased to announce its annual results for the year ended 31 December 2017 ("reporting period").
2017 marked the 10th anniversary of the Group's listing. To express its gratitude to its shareholders for their long-term support, the Board of Directors has proposed to distribute 30% and 40% of the net profit attributable to equity holders for the year ended 31 December 2017 as final dividend and special final dividend, respectively, together with the special interim dividend, representing a dividend payout ratio of 189% for the full year.
Performance Highlight of 2017
Kappa
In 2017, Kappa conducted cross-border cooperations with a number of top artists and key opinion leaders from different scopes, such as entertainment, music and arts, strengthened products with branded DNA attributes, through a series of online and offline brand marketing campaigns via accurate and fast communication channels, to enhance the perception and awareness of Kappa brand among consumers and drive the average daily sales of the products.




Kappa Kids
Kids' wear business maintained steady growth after being taken over by the Group for 2 years. Brand awareness was successfully being enhanced through diversified marketing campaigns including the sponsorship for"China Football Stars Junior" (中國足球小將) football tournament. For the year ended 31 December 2017, revenue from the kids' wear business amounted to RMB114 million, accounting for 11.0% of revenue for the China segment and representing offline and online rolling year-on-year growth of 59% and 43%, respectively.

As at 31 December 2017, the Group had a total of 1,487 Kappa stores (including 350 Kappa Kid's stores).




E-Commerce business
In tandem with the changing profile of domestic retail spending underpinned by a greater emphasis on variety, quality and personal style, a similar trend of upgrading was also emerging in online retail spending. As an important business segment of the Group, the E-commerce segment has been actively exploring new methods to further penetrate the domestic e-commerce market. Kappa reported year-on-year growth of 30% in November 11th online sales (including kids' wear) in the Single's Day Shopping Festival hosted by Tmall in 2017 in the ninth year of its participation.




Japan business
The Group continued to reform the Japan business during 2017. The PHENIX brand, due to its excellent quality, continued to sponsor the top-notch skiing sports team, the Norwegian Alpine Ski Team and the Norwegian Olympic Committee. At the same time, Chinese government announced a series of policies for promoting the development of ice and snow sports. We believe that our Japan business will regain its vigour in no time.




Investment business
Over the past few years, investment business has been one of the key growth drivers of the Group, effectively making progress in implementing the "dual-engine" business model of the Group. Financial investment has constituted impressive achievement. By upholding the principle of "Profit orientation, Cooperation with trusted partners and focus on worthwhile projects", the investment business reported gains of RMB942 million, representing a growth of 19.7%. Shares of Alibaba directly held by the Group and the projects of, among others, Ant Financial and JD Finance indirectly held by the Group has and will continue to generate satisfactory return to the Group. Looking ahead, investment business will continue to generate stable and lasting rewards for shareholders.




New Leader and organization structural reform
With a view to expediting reform and innovation in tandem with market changes, the Group welcomed Mr. Zhang Zhiyong by the end of 2017. Mr. Zhang has been in the industry for 20 years with rich experience. Further the Group has promptly optimised and reformed the organisational structure, attracted top talent in different areas and finely adjusted the systems of sales, marketing and operation management, progressively establishing a streamlined and highly-effective organisational structure with an aim to enhance the overall operational efficiency of the Group. Company believes the above measures will lead China Dongxiang to embark on new ventures in its business.
Mr. Chen Yihong, Chairman and Executive Director of China Dongxiang (Group) Co., Ltd., said, "Year 2017 marked the tenth anniversary of China Dongxiang's IPO and listing. We sincerely thank our shareholders for their support and love all these years. In the past ten years, China Dongxiang is constantly changing, innovating and striding forward by overcoming different hurdles. As a company that has been established for fifteen years, China Dongxiang will continue upholding the "work hard" spirit, and continue to strive for excellence in its business, enhance brand and corporate value, and lay solid foundation for the Group's sustainable development for bringing more abundant and long-term benefits to our shareholders."
-END-
About China Dongxiang (Group) Co., Ltd.
Chan Dongxiang (Group) Co., Ltd. (HKEx: 3818) is a leading international sportswear brand enterprise in China which has been listed on the Main Board of the Hong Kong Stock Exchange since 10 October 2007. The Group is primarily engaged in the design, development, marketing and wholesale of branded sportswear in China. Currently, China Dongxiang owns all rights to the internationally renowned Kappa brand in China, Macau and Japan. On 1 May 2008, China Dongxiang completed the acquisition of PHENIX, a Japanese sportswear enterprise. PHENIX is the most popular ski brand in Japan with the largest market share, as well as a well-known brand in the international market.
For enquiries, please contact:
China Dongxiang (Group) Co., Ltd.
Investor Relations Department
Christina Low, Erin Su
(8610) 67836585
Email: ir@dxsport.com.cn
---