Work as One to Overcome the Difficulties China Dongxiang Donated RMB3 Million to China Charity Federation With Its Brands Kappa and Phenix Set Up RMB3 million Special Fund to Help Prevent and Control the Novel Coronavirus
---
(29 January 2020 - Hong Kong) The leading international sportswear brand enterprise in the PRC, China Dongxiang (Group) Co., Ltd. ("China Dongxiang" or "the Company", together with its subsidiaries, "the Group", HKEx stock code: 3818), together with its Kappa brand and Phenix brand, donates RMB6 million to help prevent and control the novel coronavirus. The donation consisted of two parts, of which RMB3 million was donated to China Charity Federation through the Group's subsidiary Shanghai Kappa Sporting Goods Co., Ltd., for the unified deployment of resources. The remaining RMB3 million will be set as a special fund to procure urgently needed medical supplies in order to support medical staff on the front line and people in need.
The Group used its global supply chain network to urgently purchase masks worth RMB3 million from overseas, to support medical staff on the front line across the country and people in related areas with scarce medical supplies.
The outbreak came at the Chinese New Year. The Group immediately strengthened its daily disinfection practices of all production spaces, offices and retail stores to ensure qualified products and a safe consumption environment. At the same time, the Group shouldered its responsibility as a corporate citizen, actively helped Wuhan to fight against the novel coronavirus, and donated funds to make contribute to the current epidemic prevention work.
Mr. Chen Yihong, Chairman and Executive Director of China Dongxiang, said, "Although the sudden epidemic has caused great operational pressure on more than a thousand stores of the Group's brands, we are in one mind and will continue to fully protect the health and safety of each staff and consumer, actively cooperate with the relevant authorities' follow-up prevention arrangements and implement our obligations and responsibilities for the advancement of epidemic prevention and control."
God bless Wuhan and China. The Group pays tribute to every white angel who fights the epidemic on the front line and anyone who has made contribution. Every staff in the Group will continue to join hands with people around the country and the Group believes that we will overcome the difficulties for sure.
- End -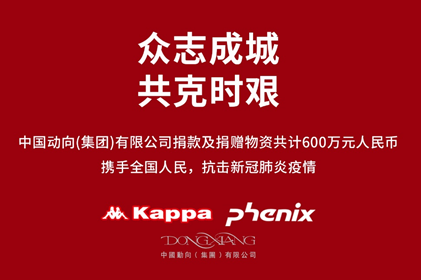 About China Dongxiang (Group) Co., Ltd. (Stock code: 3818)
China Dongxiang (Group) Co., Ltd. is a leading international sportswear brand enterprise in China which has been listed on the Main Board of the Hong Kong Stock Exchange since 10 October 2007. The Group is primarily engaged in the design, development, marketing and wholesale of branded sportswear in China. Currently, China Dongxiang owns all rights to the internationally renowned Kappa brand in China, Macau and Japan. On 1 May 2008, China Dongxiang completed the acquisition of PHENIX, a Japanese sportswear enterprise. PHENIX is the most popular ski brand in Japan with the largest market share, as well as a well-known brand in the international market.
Issued by Cornerstones Communications Ltd. on behalf of China Dongxiang (Group) Co., Ltd.. For further information, please contact:
China Dongxiang (Group) Co., Ltd.
Investor Relations Department
Christina Low / Tiffany Liu
Tel: (86) 10-6783 6585
Email: ir@dxsport.com.cn
---